Hello there,

No doubt… SEO is a total game-changer for your business and website.
Any small business can make a fortune by investing wisely in their website's SEO.
There are billions of websites already doing so.
But with billions of websites out there all trying to get noticed, it's no surprise that the flashy promise of SEO has also drawn in its fair share of sketchy folks we call '
snake oil merchants
'.
Every corner of the internet seems to offer claims like:
"Achieve Top Ranking in Just One Week!"
"Dominate Your Competition in a Matter of Days!"
"Get ranked for 10 keywords in 10 days"
Look… I've been in this field for so long that I can honestly say, 
"been there, done that,
" for about 99% of the stuff SEOs are offering these days.
And let me tell you…
Anyone throwing around such tall claims is basically taking you for a ride, and guess who's paying the fare?
Well.. It's definitely not them, so it's you.
And I hate to admit it, but the
SEO world is plagued by Fake Gurus.
These guys tell you they can get you ranked in a week for 10 keywords, but as they say..
"The Devil is In the Details"
See…it's not just about throwing around keywords.
You've to consider things like…
Keyword Difficulty…
Keyword volume…
Keyword relevance…
I mean.. imagine if you are a cat food online store.
Would you like to rank for irrelevant keywords with almost zero volume?
Something like 
"
Will my cat miss me if I go to space with Jeff Bezos?
"
 (Trust me, somebody in the world would've already searched for this keyword)
No, you don't want to…..Absolutely not.
It's irrelevant.. It has close to zero volume, and you don't want your customer feedback emails inbox filled with questions about space and cats and Jeff bezos.
Instead, you want to rank for keywords like '
buy cat food
'.
And you know what's funny?
They won't even try to rank you for this.. cause it's close to impossible to rank for this high-intent keyword in anything less than 3 months.
Instead, they'll pick the most random, useless keywords and then proudly present you with a monthly report that says you've ranked for 10 keywords.
What they won't tell you is that those 10 keywords are the most irrelevant and pointless ones you can imagine.
Even though I feel like a snitch but that's the truth off my chest..
So Remember, SEO is a marathon, not a sprint..
SEO needs time and patience.
It requires genuine pros, people who really know their stuff, folks who've boosted hundreds of businesses.
You need SEOs who can walk the talk!
So let me share something that can actually help your business get real results, real traffic, and real return on investment.
At Samblogs, we know business owners are tired of mediocre SEO.
We get it – some of you have been scammed, and some are running low on budget
And some are basically hiding on the 10th page of Google search results.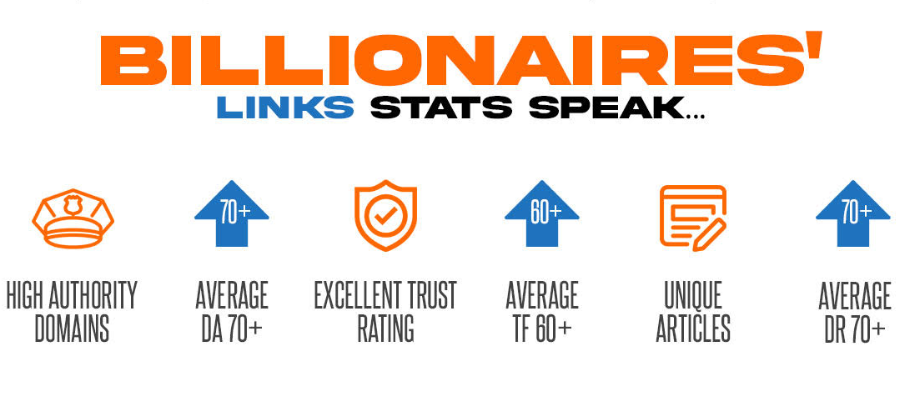 Not exactly where you want to be, right?.
Well, we put our heads together to come up with a solution that works for all you budget-conscious business owners, no matter where you're currently hiding in those search rankings.
Introducing Billionaire Links!
This SEO package isn't just all talk – it's the real deal.
We've got 580 satisfied customers who can back that up.
So, if you're a business owner who's tried everything under the SEO sun and still hasn't seen any return on investment, this package was made just for you.
It's like a defibrillator for your SEO, ready to bring it back to life…
And here's the cherry on top…
For a limited time, you can snag this fantastic deal at a jaw-dropping 50% off!
That's the kind of offer you don't want to miss.
So, let's break down what you'll get…