Pinterest SEO.
Is there such a thing?
Absolutely!
You have heard of Google, the world's biggest search engine. However, there are more search engines that are big players in the industry. For instance, YouTube and Pinterest are in the Top 3 of the world's most used search engines.
The best part: You can reap the organic traffic from those search engines to your website.
That's right: Without paying a cent, you can generate heaps of traffic from social media sites that are also heavy hitters as search engines.
This guide explains how to perfect Pinterest SEO. By the time you are done reading this comprehensive action plan, you'll know how to optimize your Pinterest pins, Pinterest boards, and your website in order to generate boatloads of Pinterest traffic.
Are you ready to learn how to use Pinterest SEO?
What is Pinterest?
Pinterest is a bulletin-board style social media site. Members are called "pinners." The site revolves around the idea of image sharing. The images, in keeping with the bulletin board theme, are called "pins."
Like on other social media sites, members can network by commenting publicly or privately and sharing each other's content.
In recent years, Pinterest has become a powerful search engine as well as a social media site.
What is Pinterest SEO?
Pinterest SEO stands for Pinterest search engine optimization. This means we make sure we are in an optimal position to receive Pinterest traffic.
This A to Z guide to Pinterest SEO won't let you leave any stone unturned.
Pinterest SEO differs from Google SEO. For instance, Google SEO focuses more heavily on keyword research.
Search engine marketers trying to boost their rankings in Google's Search Engine Results Pages use a keyword tool to try to find certain metrics.
These involve finding a keyword with a massive number of monthly searches, as well as beating the online competition for readership.
Search engine marketers use keyword tools like Ubersuggest or an Ubersuggest alternative to do the research.
Beating online competition entails writing about a keyword that has online competition with a lower Domain Authority Ranking than you have.
Moz developed the Domain Authority Rank. You can discover your Domain Authority Rank or the Domain Authority Rank of any website by using the free MozBar. The MozBar is an SEO toolbar by Moz.
Let's examine the differences between Google SEO and Pinterest SEO.
How does Pinterest's Search Algorithm Work?
Like with other search engines, Pinterest's algorithms may not always work in your favor. 
In fact, pinners often complain that Pinterest's algorithms favor DIY (Do it Yourself) and recipe bloggers. Pinterest's pins with visually appealing images are ideal for craft and food bloggers.
Let's see how you can work the algorithms in your favor, even if you don't create content involving crafts or food.
Pinterest SEO - The Comprehensive Guide
Click To Tweet
Boost your activity on Pinterest
Pinterest's Search Algorithm is biased in favor of people who pin often. Social media sites show the content of active members. If you want Pinterest SEO to work in your favor, become more active on the site.
What does this mean?
Easy! Pin often. This includes pinning your own pins as well as other pinners' pins.
Finding other pinners is simple. Reciprocal groups exist so you can find and help each other. These groups are found on Facebook. Go to the Facebook search bar and enter "Pinterest + Group" and see what populates.
Notice: You see the metrics of the groups so you can make an informed choice. You see how many members in the group and how many posts a day. Choose an active group. When you decide, click Join Group.
Pinterest groups will require you to pin other members' pins. In return, they'll pin yours.
Use a Pinterest scheduler.
Use a scheduling app to post your pins during optimal times when your followers are active. You can't be at a computer all the time, after all.
Tailwind groups are popular. Tailwind is a popular Pinterest scheduling app.
Use hashtags.
When you place your pin on a Pinterest board, you'll be asked to describe your pin. Use a hashtag in your description.
Look: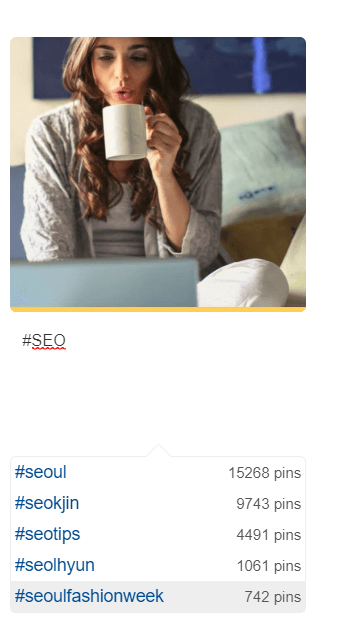 When I started typing #SEOTips into the pin description, all the hashtags starting with #SEO populated. You can see #SEOTips has 4,491 pins.
You can look at this in two ways. First, there are many pins with this hashtag so your pin could get lost in the "noise." On the other hand, there is interest in people using Pinterest to search for information on this topic.
Hashtag strategy: 
Do not just use one word to tag your pin. If #SEOTips could get lost in the noise, certainly a generic tag like merely #SEO will get lost in the noise.
Pinterest SEO also has a greater chance of success when you use longer keywords.
Ideally, you should strive for keywords four words long. When people search for information, they search for specific information. The longer your keyword phrase, the quicker you will eliminate the "noise" and more quickly let people find your Pinterest pins.
Pinterest SEO - The Comprehensive Guide
Click To Tweet
How Does Pinterest Determine Pin Quality?
In order to optimize your pins on Pinterest, you need to follow certain criteria.
Make your pins long. 
Happily, when you go to graphic design tools, you can choose Pinterest and the pin gets made according to Pinterest's recommended standards. For instance, Canva, Snappa, Fotor, PixTeller, and PosterMyWall all will default to the optimal dimensions for your pins with just the click of a button.
Look:
This is what you see when you enter Snappa's dashboard. The length of your pin will be 1102 pixels. In other words, your pin will be long.
Make your pins colorful. 
Pinterest is a crowded site. You want your pins to stand out. Make them colorful. Red does well on Pinterest since red is eye-catching.
Pink and purple are also optimal colors to make your pins.
Have a smiling face in the image in your pin.
Are you trying to generate traffic to a craft or recipe? Then, show a happy person making the craft or next to the food.
Appeal to the senses.
Make your pin sensory. If your pin is about botany, we should be able to see the light gleaming off the plant.
If your pin is a recipe, we should be able to imagine the aroma of the food we will eat. You are trying to generate interest. Appealing to the senses like sight and smell does this.
Put text over your image.
In the text, tell people the benefits of using the item in the image.
Examples of optimized pins:
According to the source, this is one of the most shared pins of all time.
Does this pin from a food blog meet the criteria for a well-optimized pin?
Text: The benefit of eating the berries is written in the text: Eating the berries will boost your immunities.
Sensory Appeal: The pin also meets the "sensory" criteria. Can't you see the glint of the light coming off the berries?
Color: Finally, the color of the berries is eye-catching. To make sure the color is noticed, the photographer used a blur in the background.
Pinterest SEO is fun! Let's look at another example.
This pin from a travel blog was re-pinned 47,000 times!
Does it meet the criteria?
Face: While it doesn't show a smiling face, it does show a person approaching the water.
Sensory Appeal: Can't you just hear the rush of the water? I know I can.
Length: This pin is long.
Color: The color is eye-catching. The green plant in the forefront gives the image a three-dimensional look and is therefore is noticeable.
When you optimize your pins for Pinterest, you also optimize for Google Images since your blog post images get indexed at Google Images.
By making these pins, you have double the chance for web traffic and potential sales.
How to Optimize Your Pinterest Boards?
Use Group Boards
Have you heard of group boards?
Group boards also called "Community Boards" are for groups to share and all pin images to.
Some group boards have tens of thousands of followers! This is massive exposure for you.
How to find group boards:
Free directories exist to help you find group boards.
You want to find boards with members in your content niche. You also want to find boards with many active members.
PinJunkie is a popular directory.
Optimize your Board Names
Call your boards the important keywords in your niche. You need to be specific in order to let Pinterest's algorithms know what you create content about.
Look:
These are some of my boards. By looking at the titles, you can tell I am in the blogging tips niche. My titles all have "blogging" in them. This way, Pinterest's algorithms know to recommend my content if people are looking for blogging information.
Pinterest SEO for eCommerce
Start with the Basics 
When you sign up for Pinterest, you need to have your site verified.  Then you qualify for a business account.
Business account holders can have rich pins. This means your pins will be larger than other people's pins, and therefore more eye-catching.
Prepare Your Website
Make sure you have a Pinterest social share button available on your web pages.
This will enable people to share your pins with their Pinterest followers. This extends your reach and your potential web traffic and sales.
Pinterest Ads
Like on other social media sites, you can pay to boost your contents' visibility.
Go to Pinterest.com. Click Ads.
Pinterest gives business account holders the opportunity to set goals. For instance, you can set traffic and conversion goals for your business. As you see from the screenshot, you can run additional reports as well.
Pinterest SEO - The Comprehensive Guide
Click To Tweet
Final Thoughts: Pinterest SEO
This post shared the following information for succeeding when it comes to Pinterest SEO:
A description of the Pinterest website
An explanation of Pinterest SEO and contrast with Google SEO
How to manipulate the Pinterest search algorithms in your favor
An action plan for making your pins and optimizing your boards
Pinterest SEO for eCommerce strategies
Please share so other Pinterest users discover this guide for Pinterest SEO.
Author Bio: Janice Wald is the founder of MostlyBlogging.com. She is an ebook author, blogger, blogging coach, blogging judge, freelance writer, and speaker. She was nominated as the 2019 Best Internet Marketer by the Infinity Blog Awards and in 2017 as the Most Informative Blogger by the London Bloggers Bash. She's been featured on Small Business Trends, the Huffington Post, and Lifehack. Come to Mostly Blogging for more SEO and marketing tips where you'll receive a free PDF of 137 free marketing tools.